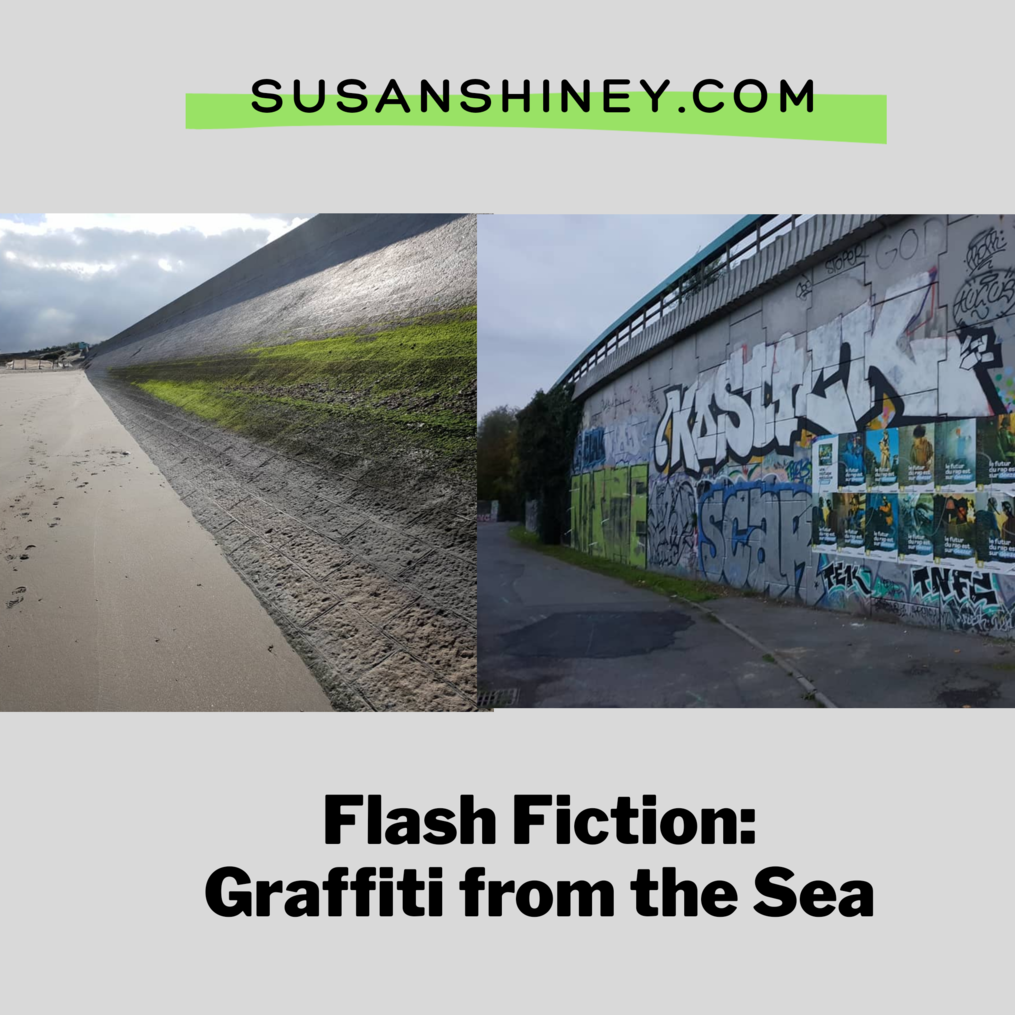 Did you see my latest daily exhibit? I dabble in different mediums. I set shell mosaics in the sand at high tide. Spirals and swirls. Stack seaweed sculptures with kelp embellishments. They plump and hum with flies. Smooth bas-relief patterns onto the shore in wavy expressions of love. Shape-shifting.
Exhale my art and inhale the collaborational accents at low tide. Seagulls palmate painting making webbed impressions. Dogs scraping lines of searching stories. Children forming sand castles and streams. Lovers carving their names in hearts. I pull them back into me when my mother, the Moon, drags me in. I used to resent the turbulence of the tides, but I understand them now, the rhythm to my masterpieces.
The seawall displays my algae graffiti, it lasts longer than the tidal shows. I can add to it each day and they absorb the sun to enhance their hue. The sun and sky blend with my surface ripple for the appreciators in the distance. The wind and I catapult kite surfers into the air for our performance art.
Did you see? Did you see any of it? I will tag the seawalls again and again to remind you to look. Remember the wisdom I leave in the graffiti of the sea.
Story Behind the Story: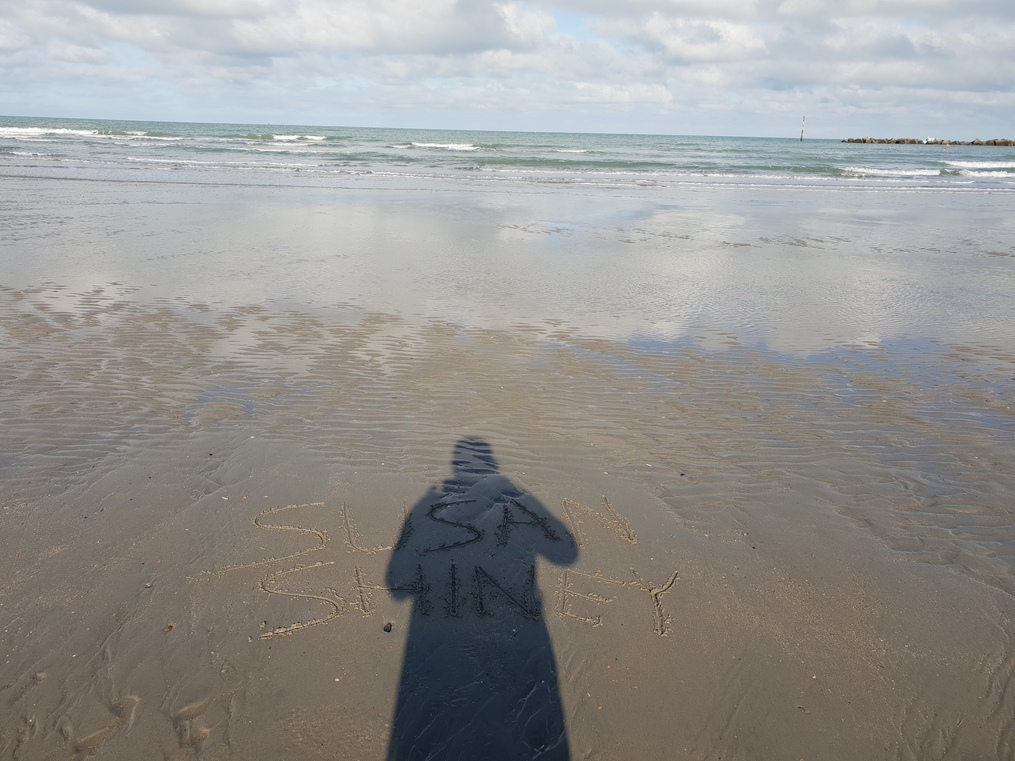 I got the idea for this story while staying in Dunkirk, France last October 2019. I also had ideas for Sailboat Swans and Jellyfish Graveyard during this trip. I spent each day wondering up and down the shore soaking in inspiration. I wrote my name on the sand for my writer website that I was developing, you can see the final image on my home page.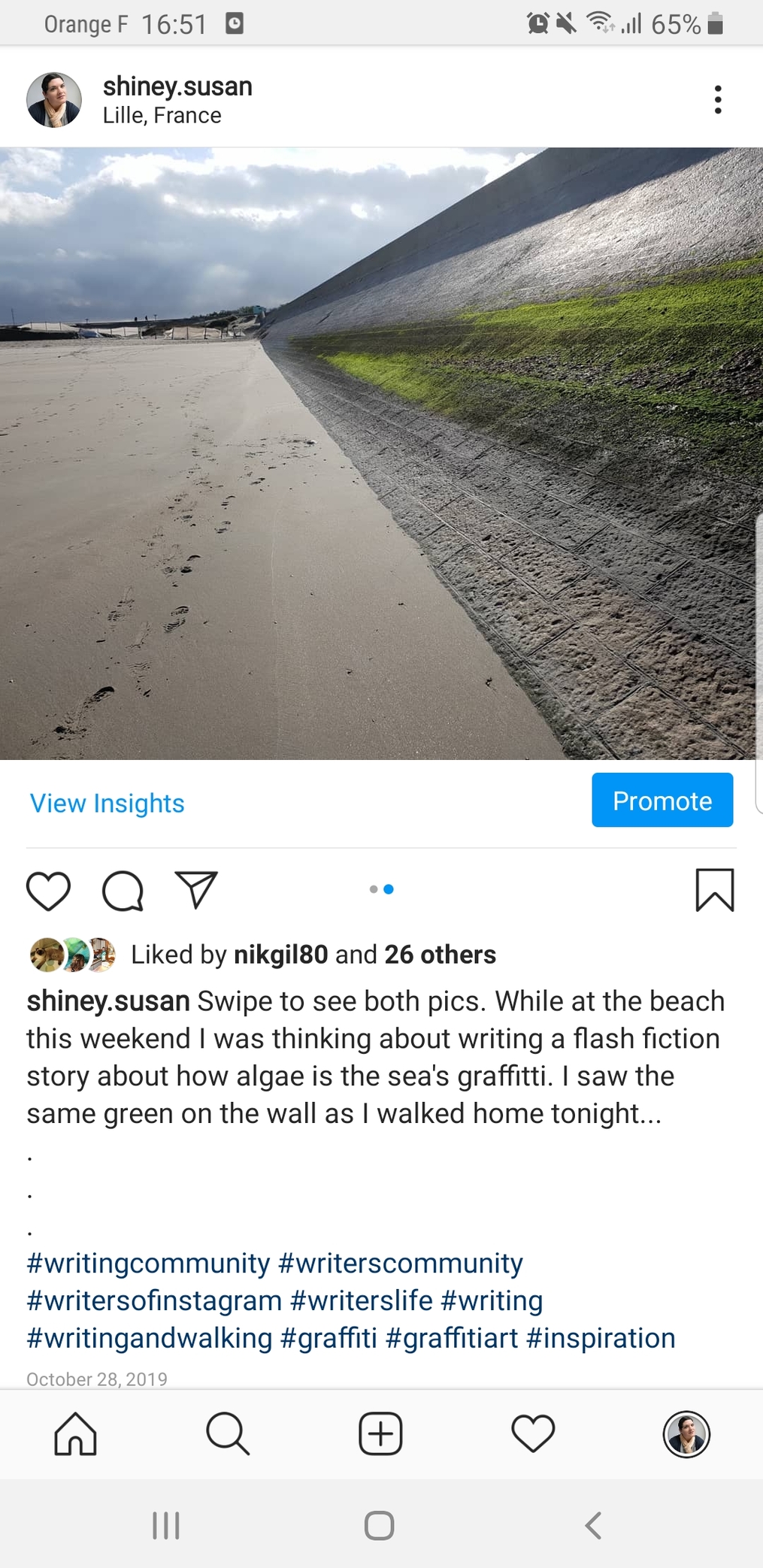 This trip also inspired me to start working on my author platform and figuring out systems for posting more on Instagram, Facebook, and Twitter. I need to take more pictures for posting ideas because they do help me when I am not sure what to write about next.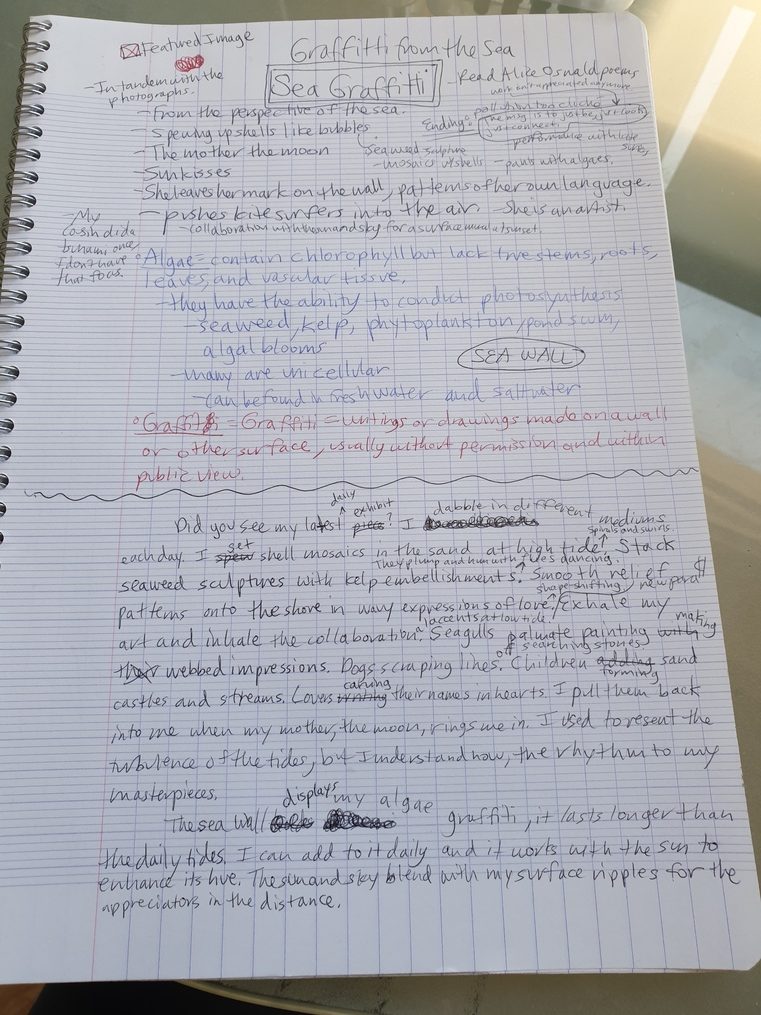 I always write my stories out by hand and do rough brainstorm/outlines before I get to the prose. Lately, the title of the story comes first and I fit the story to it. I liked the idea of writing it from the POV of the sea as an artist. I thought the ending message might be about pollution at first but I thought that might be a bit cliche. So, I moved more towards noticing the awe of nature instead. I had fun doing some research on vocabulary to tuck in like palmates are the name of seagulls webbed feet.
If you are interested in some of my other flash fiction and short stories, you can check these out. I write one each month on my blog:
A Telecommuting Tale: How Cynthia Transformed into her Desk
Story Synopsis: A surrealist piece of flash fiction about working from home during the pandemic.
Story Synopsis: A goofy short story about a prince that collects youtubers in his palace.
Story Synopsis: Caredwyn is at the beach with her mother processing her new life after divorce. She finds her elixir in the sea.
Pheromone Folly: When Magazine Cologne Man Asks You Out
Story Synopsis: Mimi VanHopkins is distracted by her magazine on her way to take a bubble bath and is met with a very real dilemma.
Weavering's Path of Whispering Pleas
Story Synopsis: The path near Karney's Creek has a wild bee swarm and everyone knows Kalista Green is the best bee wrangler in town. However, something strange is going on with these bees.
Story Synopsis: It was metal head grandma's 150th birthday and she damn well was going to build a jellyfish graveyard in her apartment if she wanted to.
An Origin Myth of Magical Mist or Whatever
Story Synopsis: A young woman goes on her first camping trip and is greeted by an unexpected visitor.

Are you interested in seeing the techniques I used to build my Instagram following by 2,000 followers in six months? If so, you can download my FREE Instagram Growth Checklist : click here .