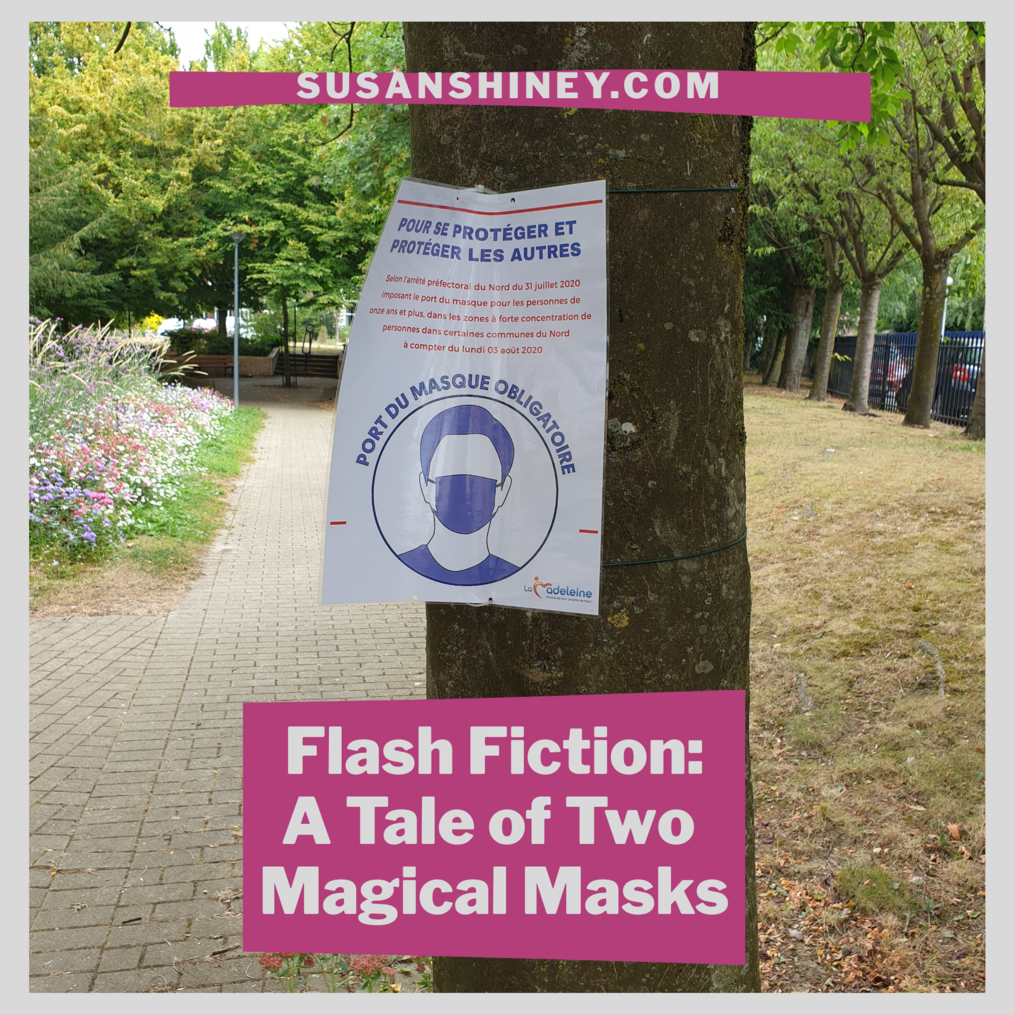 Amy Remy made two masks, one for each of her grandchildren. She used strands of her strong salt and peppered hair for thread. The fabric came from a scarf her own grandmother used to wear when she was a child. Amy's grandmother would take off her scarf and guard Amy's young ears from any harmful ideas the adults would carelessly toss around when forgetting her presence. She would wrap it around her head and kiss her cheek, Amy would watch her grandmother's wrinkles amplify as she scorned the others for using profanity.
Safety emanated from the blue pastels. Fitting it would be used to protect her own grandchildren from the invisible menace that sprayed from the infected particles floating like dandelion seeds implanting in unsuspecting lungs. As she sewed the masks with her ancient steampunk machine, Amy Remy sang a song of protection, her deep voice coating the cloth. ¨Doo dooo dummm dee immunity, blocking viruses zeee dee deee, splash repellant, eeeeh anntee."
She gave each mask a kiss before wrapping each one in grey velvet before placing it in its box. She blew special bubbles around the velvet that rested solidly in the box, waiting patiently to fly once the box was opened again. One package was mailed to Lonny in San Francisco, and the other to Lonny's cousin, Barley, in San Diego. Amy Remy in San Bernardino waved the boxes goodbye as the postman took them away. So many Sans separating the three of them.
Barley got the mask first. When he was greeted with the bubbles from the package, he said, ¨Oh, gross¨ and popped each one by slamming them as if they were bugs on the desk's surface. He opened the velvet, saw the mask and placed it to the side while he continued to search the box for a check. He picked up the mask again and said aloud to himself, ¨That's it.¨
Barley's mask did not appreciate this welcome. The mask had promised Amy Remy that he would protect her grandson, but several loop holes existed. You need to treat masks with respect for them to be kind to you. Barley's mask hoped things would change.
They didn't.
Barley never washed his mask and left it in a wad in his pocket. The mask would always slide off his nose, so he would perpetually be pulling it up. The mask emitted an onion smell in protest. No matter how Barley tied it, the mask would have two floppy bows by his ears. It also made Barley's voice sound like it was cracking when he spoke, even though he had gone through puberty years before. Nonetheless, Barley was protected.
Lonny opened her package a couple of days later. When she saw the bubbles she laughed and played with them in the air. She placed them in a jar and kept the bubbles by her bed. The velvet from the box was placed under the jar after she had savored the fabric on her cheek for the extra snuggle factor. She took the mask out of her box and immediately put it on to snap a selfie for her grandmother.
Lonny's mask altered its shade of blue to compliment her eyes in gratitude right away. Lonny washed her mask each night by hand, spritzed it with essential oils, and cooled it in the fridge just before leaving the house. She loved that the mask made it so she didn't have to wear lipstick, it covered the zit on her chin, and no one could see the chia seeds that would get stuck in her teeth after lunch.
Lonny's mask felt appreciated and made her breath always smell like peppermint. If Lonny made a silly joke, it would alter it to make it funnier. The mask also fused to the shape of her face to emphasize her cheek bones. Lonny never got sick and enjoyed her time with her new facial companion.
Amy Remy slept soundly each night, not worrying about her grandchildren's health during the pandemic. She wondered what kind of magical trinkets to create to protect them from possible future economic woes. A wallet that was always full? What would be the spell for that? Those were problems to be solved another day...
If you are interested in some of my other flash fiction and short stories, you can check these out. I write one each month on my blog:
So, I'm a Gothic Cathedral that Moved to California
Story Synopsis: Written from the perspective of a Gothic Cathedral that has decided to force her city's historical society to let her move to the place of her dreams.
Story Synopsis: Written from the perspective of the sea, she talks about her artistic expressions during the tides.
A Telecommuting Tale: How Cynthia Transformed into her Desk
Story Synopsis: A surrealist piece of flash fiction about working from home during the pandemic.
Story Synopsis: A goofy short story about a prince that collects youtubers in his palace.
Story Synopsis: Caredwyn is at the beach with her mother processing her new life after divorce. She finds her elixir in the sea.
Pheromone Folly: When Magazine Cologne Man Asks You Out
Story Synopsis: Mimi VanHopkins is distracted by her magazine on her way to take a bubble bath and is met with a very real dilemma.
Weavering's Path of Whispering Pleas
Story Synopsis: The path near Karney's Creek has a wild bee swarm and everyone knows Kalista Green is the best bee wrangler in town. However, something strange is going on with these bees.
Story Synopsis: It was metal head grandma's 150th birthday and she damn well was going to build a jellyfish graveyard in her apartment if she wanted to.
An Origin Myth of Magical Mist or Whatever
Story Synopsis: A young woman goes on her first camping trip and is greeted by an unexpected visitor.