Susan's

Categories

I love to share!
Everyone has their own way of writing and preparing for a talk. The following was how I prepared for a Tedx Berkeley talk in February. I hope you take what you like and adjust it to your needs and habits.
Overcome Self-Doubt
On the morning of the 30th of August, I received an e-mail from a co-curator at Tedx Berkeley inviting me to speak at their Tedx Berkeley event on the 8th of February 2020. I immediately forwarded it to my husband with the subject: "omg!!!!". I was thrilled and honored to be invited. By the afternoon however, my excitement turned into doubt. Why me? What could I offer?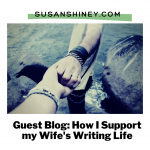 As a writer's partner I sometime feel that there is not much I can do to improve Susan's writing. I am an IT man. I like downhill mountain biking as well as other mountain biking activities. I like cars and motorcycles… So in some ways I am the stereotype of the male figure. In some ways only, because as the "man" of the house I am suppose to provide for my family and yet Susan provides for both of us right now. How? Well, she has the energy to go to work 5 days a week to teach English, pretty much 41 weeks of the year.
For me, it's all about energy and how much energy I can put or want to put at doing something. So going to work the way Susan - and most people - do is way too much energy taking out of me for the reward (mostly the paycheck). I am not underskilled but I do think in France IT workers could be paid way more than they do but for political reasons (not economical reasons) it does not. So I could fight it, or accept it, or not work at all. For now I choose not to work at all.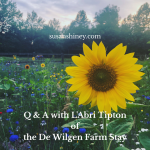 What is the De Wilgen Farm Stay?
De Wilgen Farm Stay is a small creative working residency in the countryside of the Flemish region of Belgium. De Wilgen is run by myself and my partner, Jonathan Vanhaelst. The residency is open during the summer months for one and two-week stays. This summer, now in our second season, we will be open for residencies from early July to mid-August. We provide space where writers and visual artists can come to spend time doing the work that feeds them. We offer a space to artists that allows them to focus on their work while we take care of day to day things such as meal planning and dishes.