Susan's

Tags

I love to share!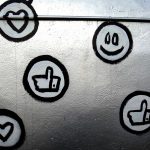 In this digital age, social media marketing and presence is everything for authors establishing their brands. The hard part is that you need to start way before you actually publish, because it takes time to build a following and if you launch your book without an audience, that is a recipe for disaster.
10 Reasons your Social Media Platform Will Make you a Better Writer
1. Gets you to read more books. What you are reading will give you a lot of great content. You can find quotes to turn into photos for postings, take pictures of the books with fabulous backdrops, and contact authors and tell them what you think of their work.