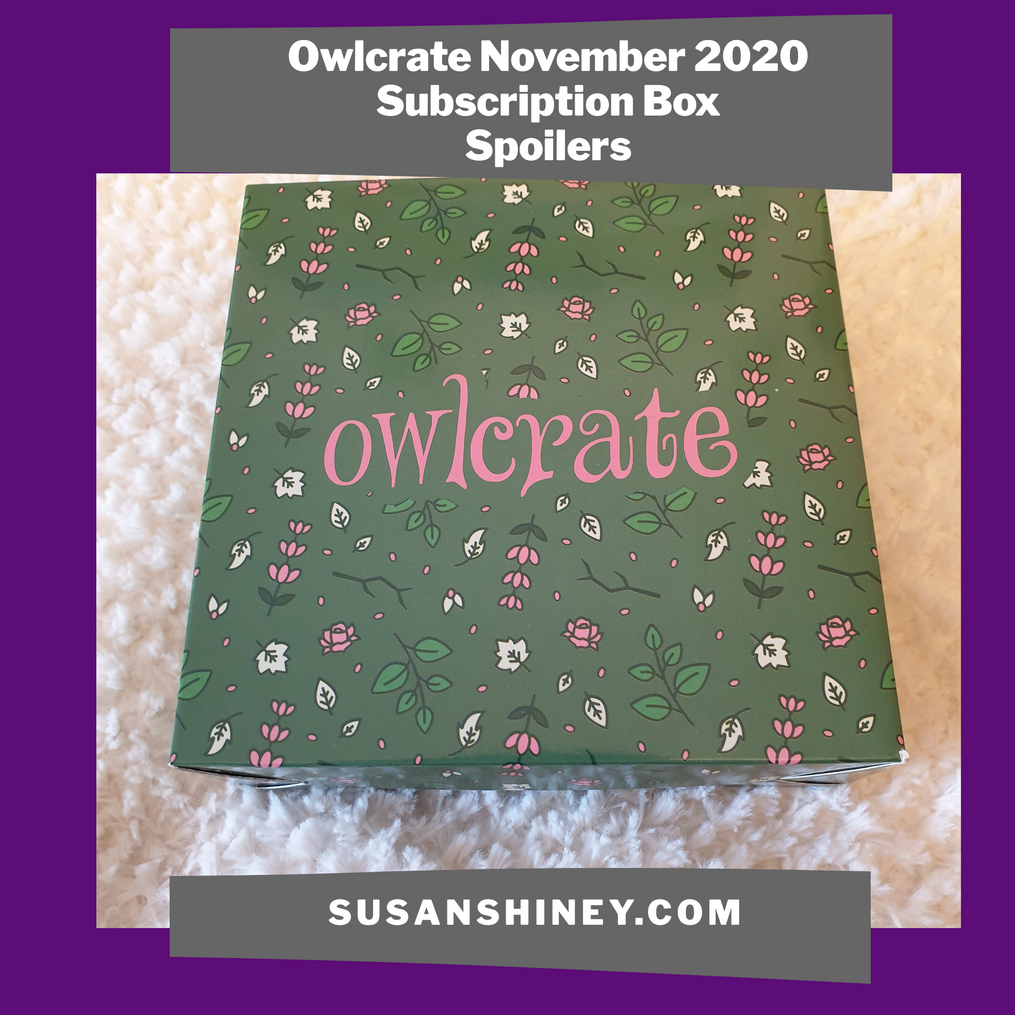 This is my first ever subscription book box! I researched a couple of them for months and have been interested in checking it out as I go deeper into the reader community and the lives of avid readers.
What is Owlcrate?
I chose Owlcrate to start off with. I signed up for a six-month subscription. Each box is 29.99 (shipping is not included) and if you sign up for six months you get twelve dollars off. Owlcrate sends boxes with a special edition signed young adult book along with a mixture of bookish merchandise related to other popular book fandoms.
Why did I chose Owlcrate?
I chose Owlcrate because I liked the books and types of merchandise they had for the last couple of months. I also saw it listed as one of the best on a lot of websites. I hope to try some others too one day.
I think of it as a nice gift to myself and have found it to be a real joy so far. I am using it for a bunch of different content needs for bookstagram and even filmed my first unboxing video for my instagram IGTV channel. They also have a week of prompts for bookstagram pages so that is also a week of content too and a way to connect to other readers in the community. If you are interested in my blog post about Bookstagram for Authors you can find that here.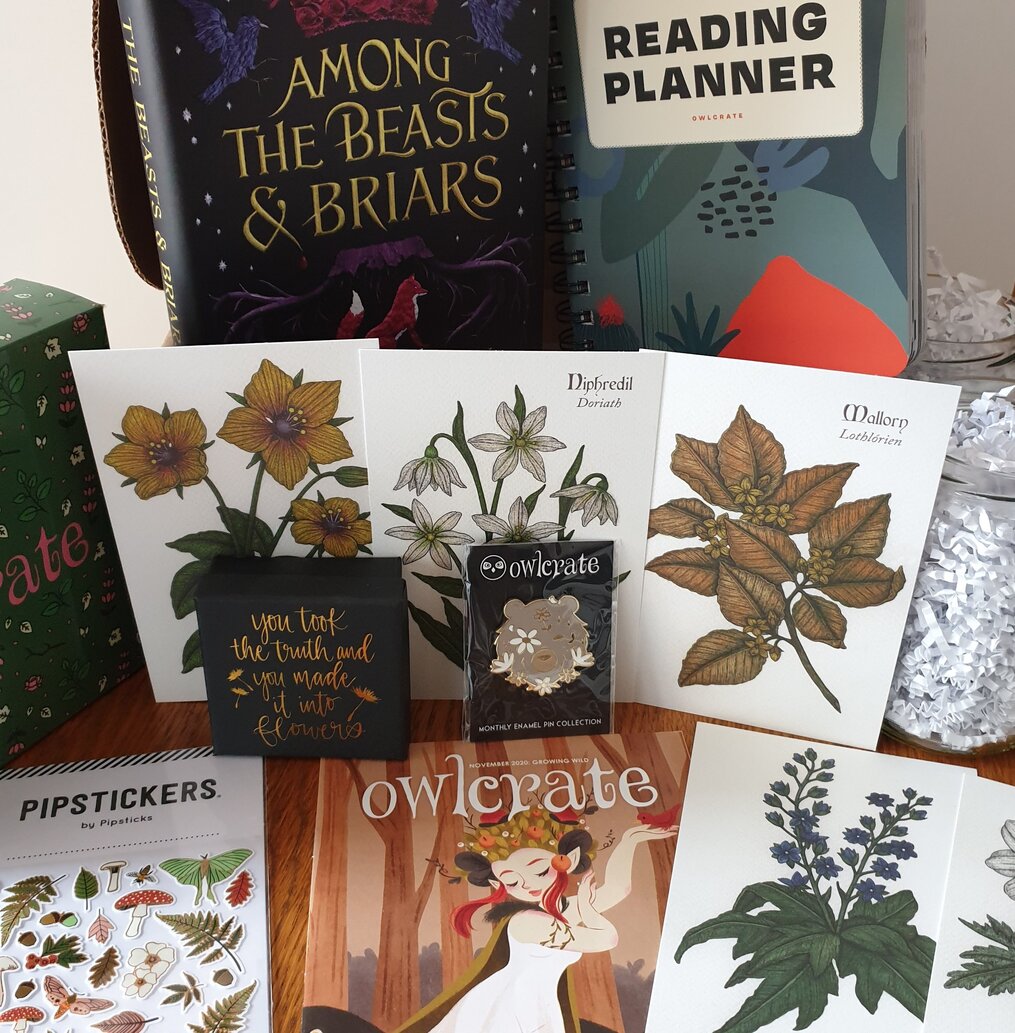 What's in the November book box?
This is a picture of all the items coming out of the box. Each month there is a theme and this month's theme is ¨Growing Wild¨. All of the items relate to whimsical flowers culminating in a dark fairy tale book taking place in a magical forest.
I will go through each item and talk about them more.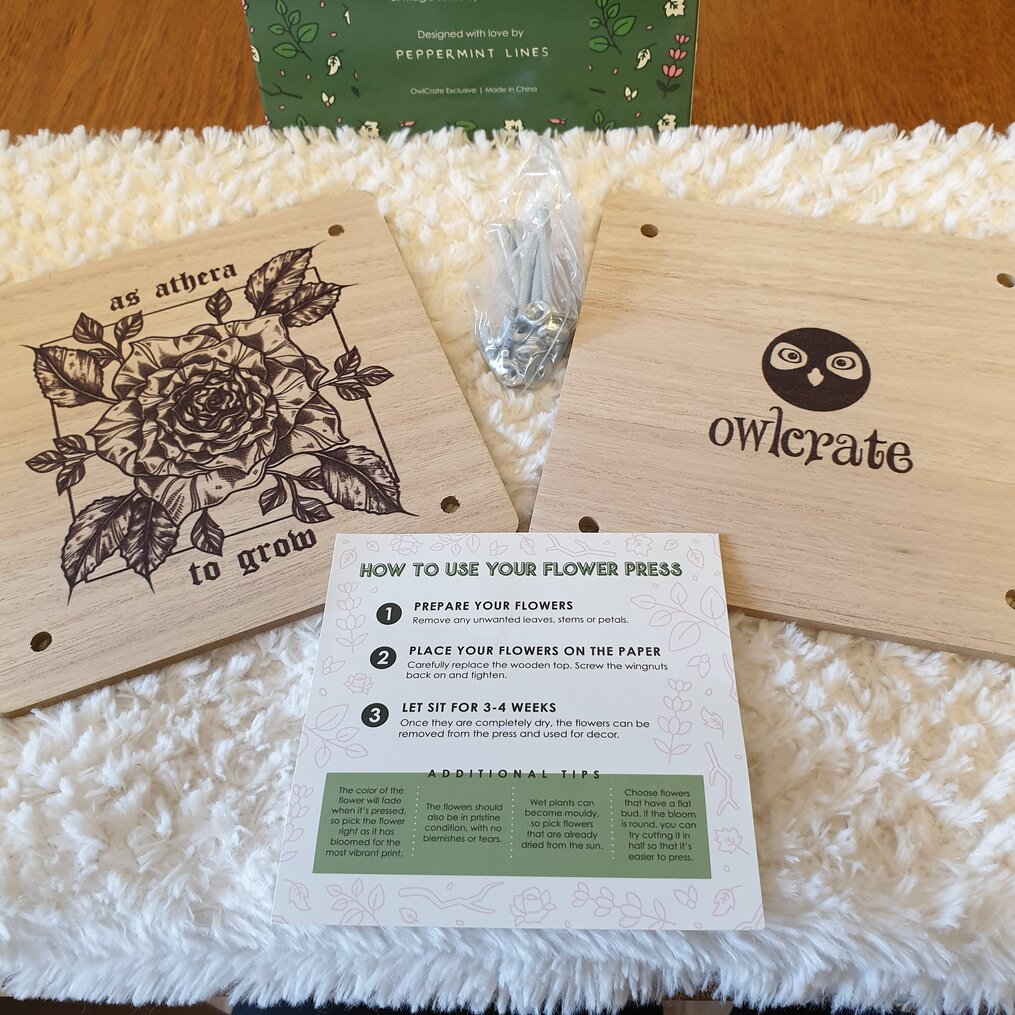 Wooden Flower Press Kit
The box within the box is the green box in the title card image. It is a Wooden Flower Press Kit created by Peppermint Lines. She specializes in flower line drawings and based this image on A Darker Shade of Magic by V.E. Schwab. It says "As athera, to grow¨ which is a Antari blood magic command. I haven't read this book yet, but I look forward to dipping into the world of V.E. Schwab very soon.
I already have plans to buy more flowers for my bookstagram pictures and I love the idea of using a press and to have pressed flowers to include in my images as well. I liked this blog post about Creating a Pressed Floral Design. I love crafts and this is a great toy to play with. I am going to try it out soon!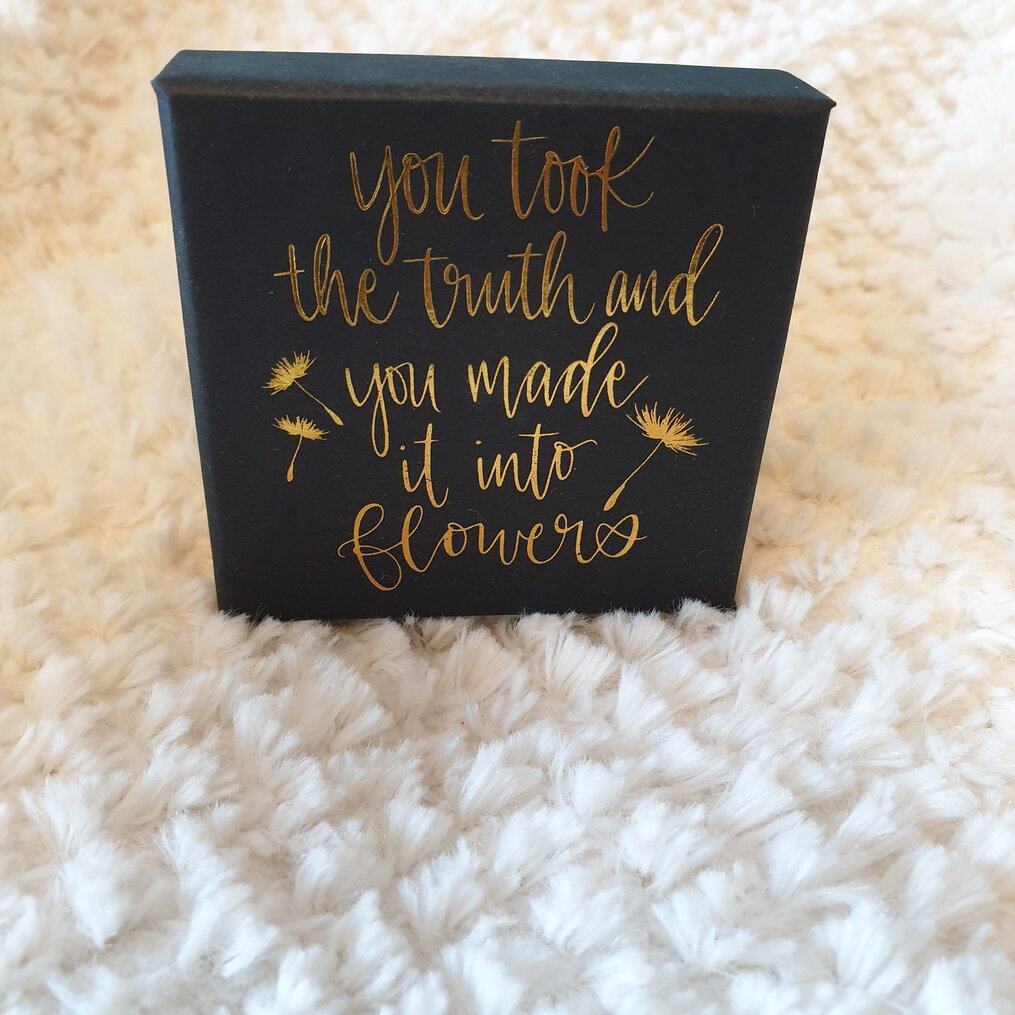 The next cute box within a box (designed by Studio Kyra) you find is this one with a foiled quote from the book Wild Beauty by Anna-Marie McLemore. This book is a magical young adult story about a land where if the women fall too deeply in love with their partners, they vanish. It is also listed as a book recommendation if you love the book of the month included in the box. I have been finding more book recommendations based on book photographs on bookstagram, but I am also loving exploring new books through the subscription box. Wild Beauty sounds right up my alley and I am surprised I haven't heard of it before.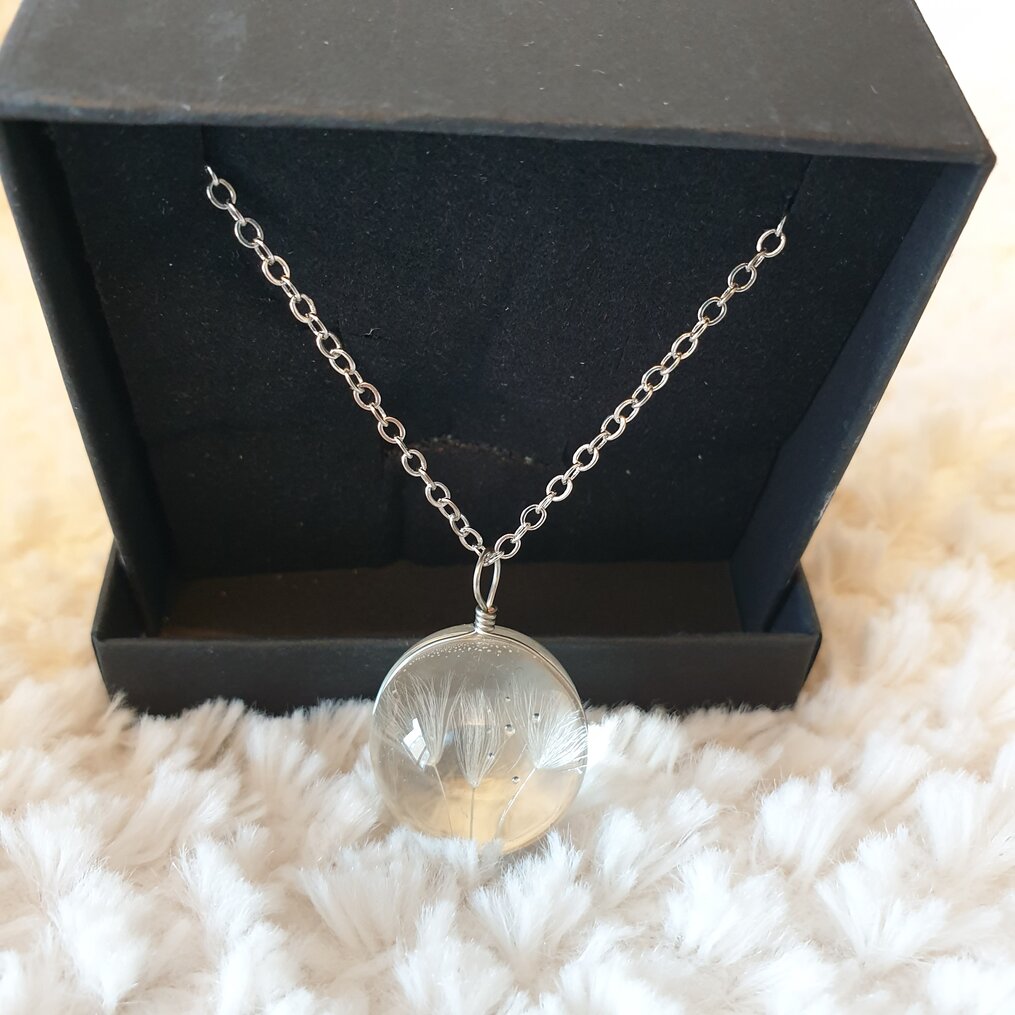 Dandelion Pendant Necklace
Inside the box you find this dandelion pendant necklace. It is the type of jewelry I would wear, and I also think it would fit well with the marbles I bought for bookstagram photos.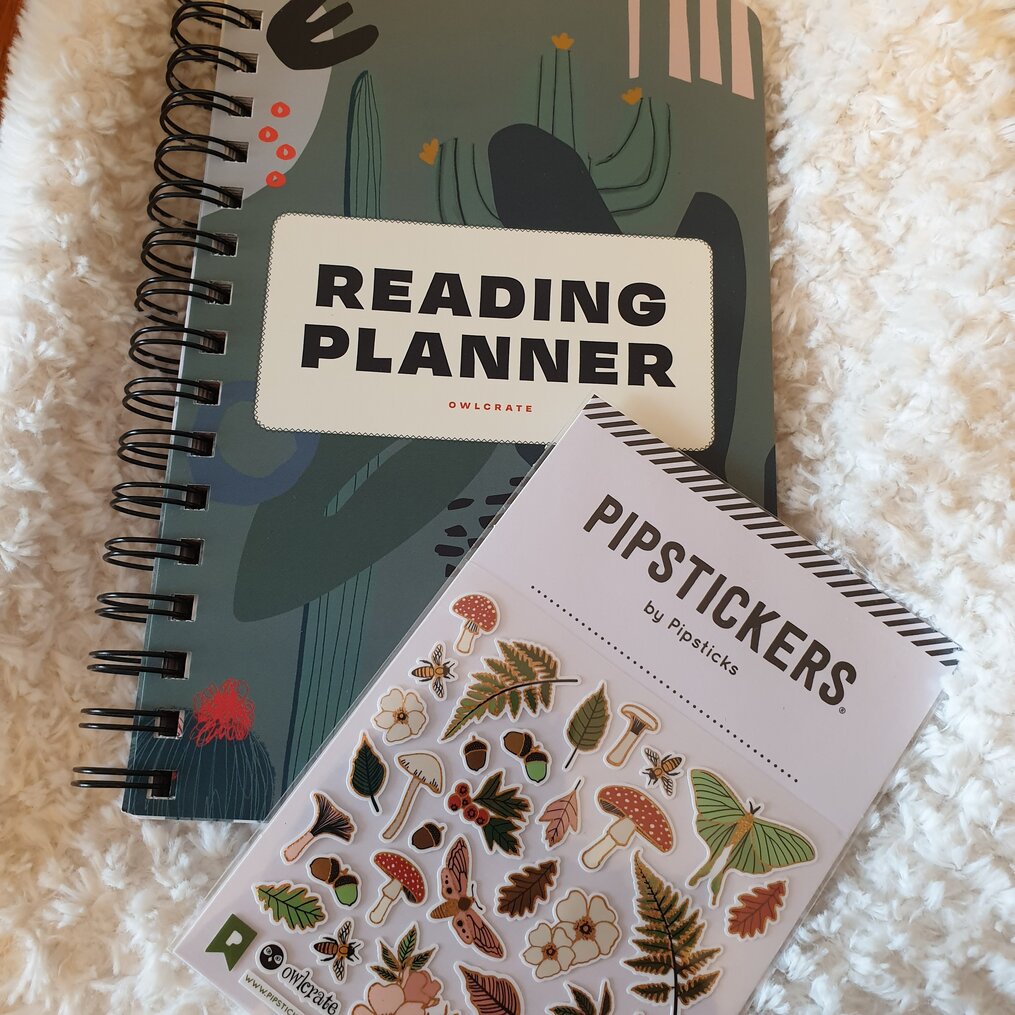 Reading Planner
Next, is a Reading Planner designed by Blue Star Press. I never thought about having a planner just for my reading, but I love the idea and I want to use it regularly in 2021. It is perfect for me because I do want to take my reading up a notch next year. It also came with stickers for the reading planner by Pipsticks. They even have their own subscription plans...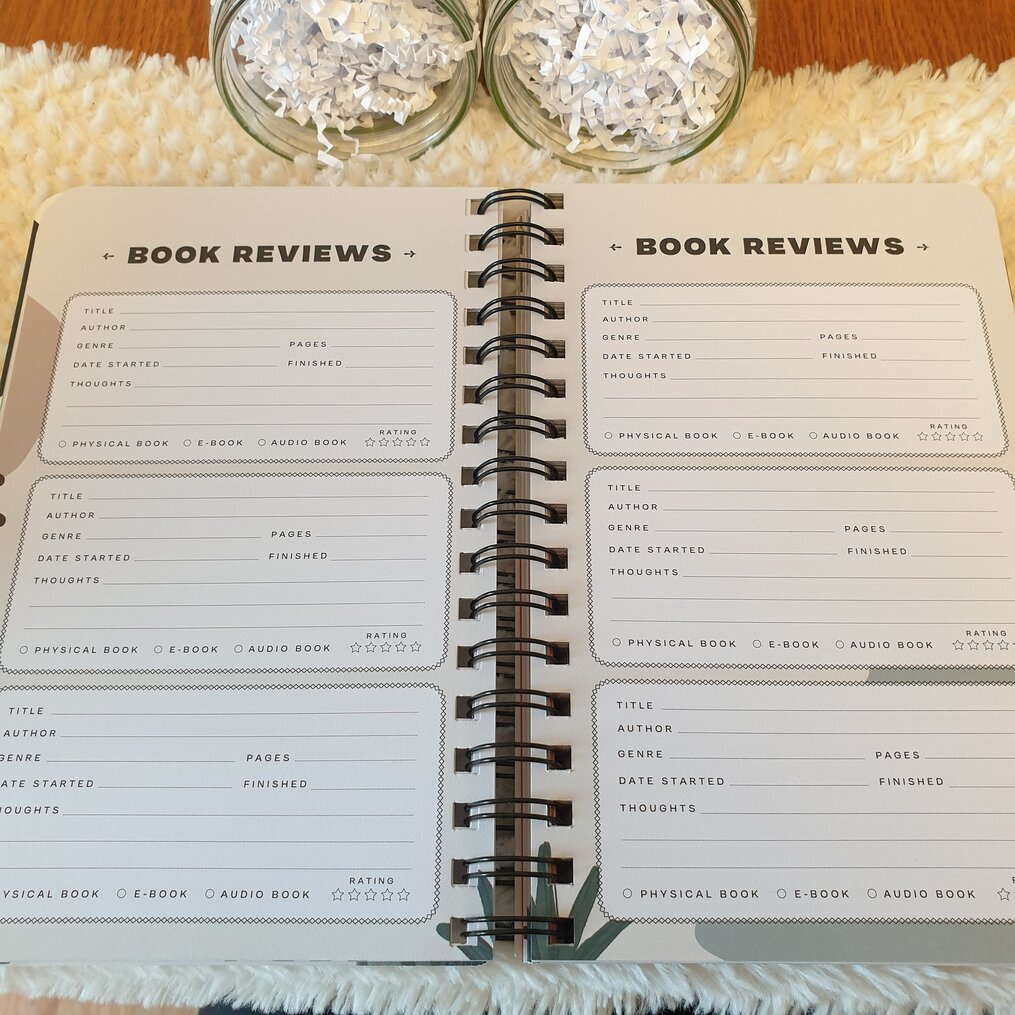 I love these review sheets and I want to write more book reviews next year and will use these as my basis for taking notes. I also like the idea of using them for photographs in my Instagram stories.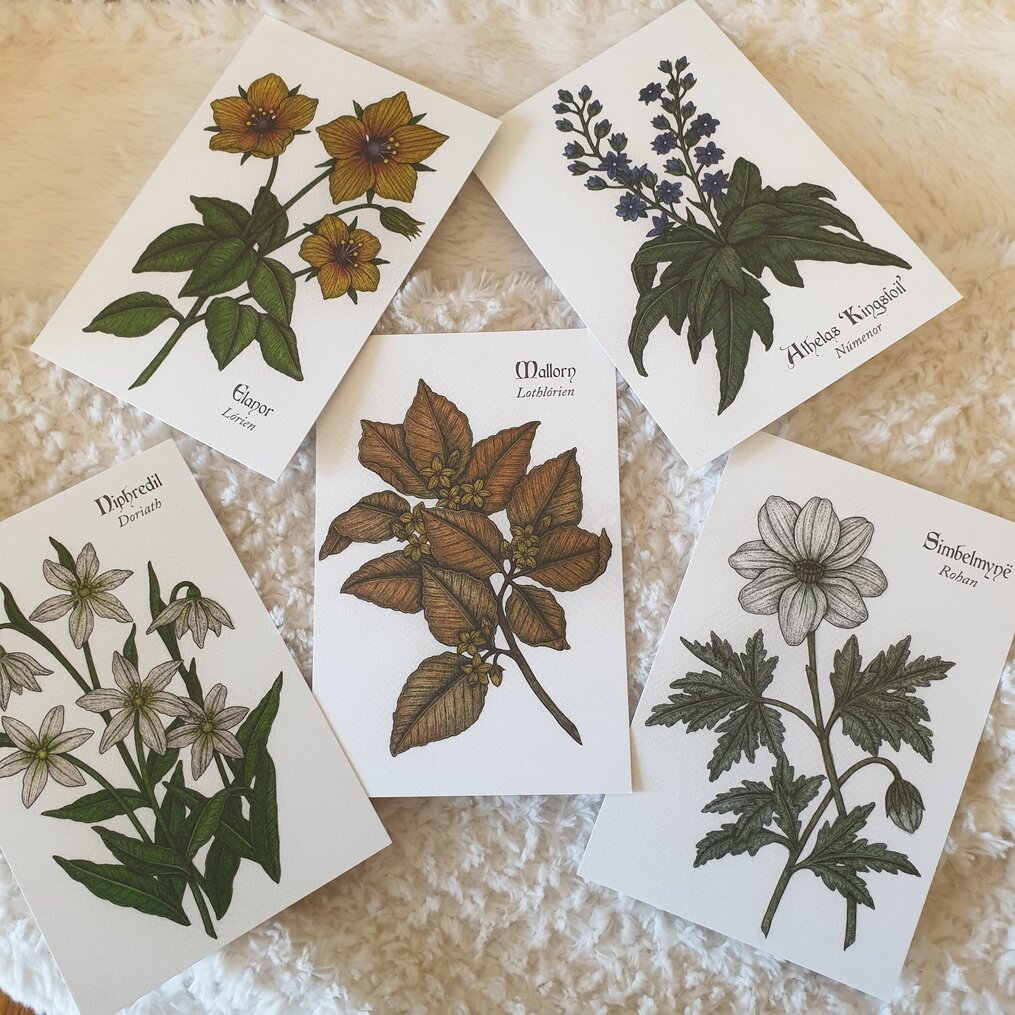 I have seen character illustrations everywhere, but this is a creative idea to illustrate fictional plants from the Lord of the Rings by J.R.R. Tolkien. These vintage style flower prints were created by Rheannon Ormond. They are very photographic and I plan on using them for backgrounds for photographs, of course. There is actually a fandom page that describes these plants from Middle Earth in greater detail.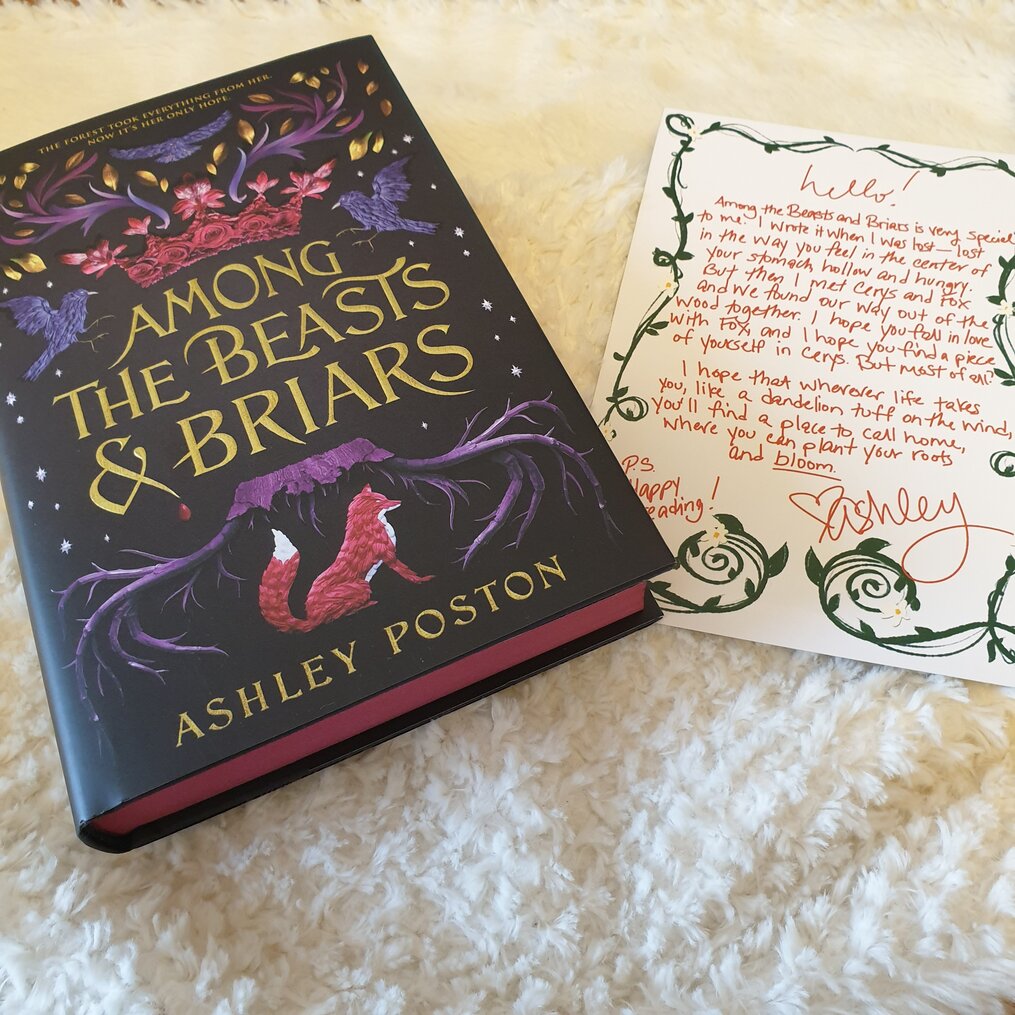 The Book of the Month
For the main event, the book of the month is Among the Beasts and Briars by Ashley Poston. It includes magenta sprayed edges, a special edition cover (the original is white), a letter from the author, and it is autographed by the author on the title page. It also has a reverse dust jacket artwork by Cathrin Peterslund. I am slowly working on my book collection and this is a nice book collector treat, I feel like so much more of a bibliophile.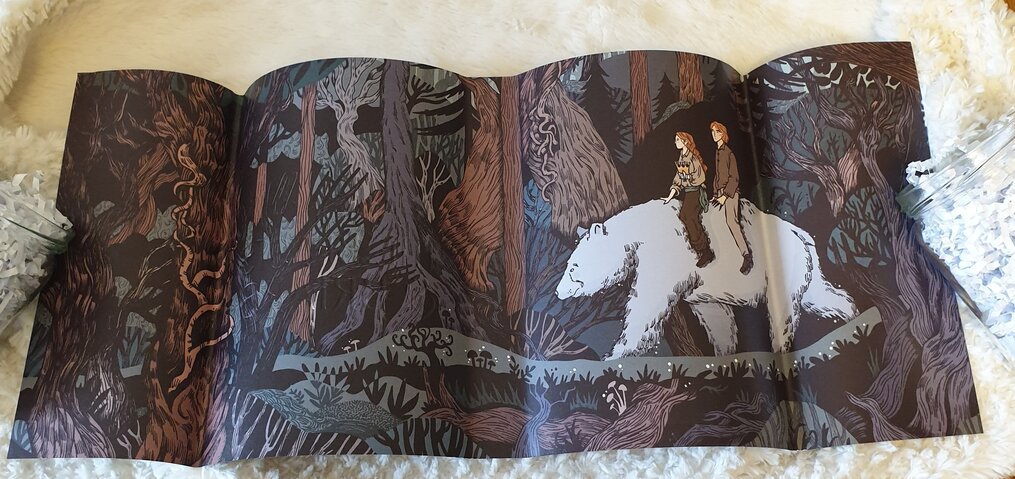 Among the Beasts and Briars is a dark romantic fairy tale about a cursed forest that is now infringing on the kingdom. The main character Cerys is the daughter of a gardener with some magic in her blood. She is forced into the forest to find the Lady of the Wilds to save her home. She travels with a magical fox and a bear. Speaking of...
Magical Bear Enamel Pin from the Book
The last bookish item included in the box is this enamel pin of the bear from the story created by the Morgane Barret Shop. Bookish pins are another accessory that is big in the avid reader world, along with candles and character illustrations. Since I am new to them, I found this article helpful by Bookish and Bakewell, 5 Ways to Display your Enamel Collection. I like the idea of putting them on a cork board or a pennant.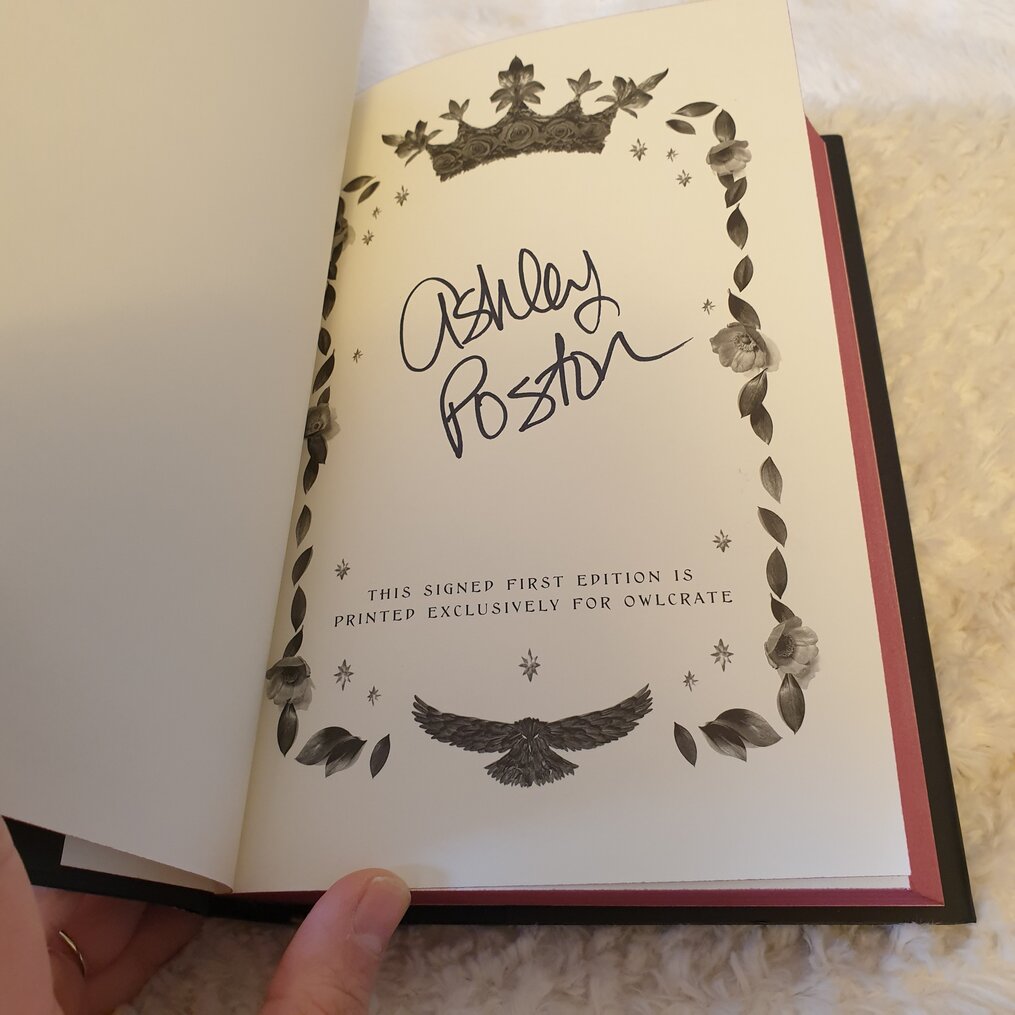 Was it worth it?
I think so! However, this is my first Owlcrate subscription book box. This might be an especially good month with items that directly appeal to me. I have heard that book box materials often end up on ebay where people sell the things that they don't use. But, I can honestly say I plan on using everything. After writing this blog, it is interesting to see how many independent artists they collaborate with for their merchandise. A lot of the artists don't even have their own websites yet, and I hope to continue following some of them.
I look forward to reading the book during the winter season because a dark fairy tale sounds like the perfect thing to snuggle up with to escape the cold.
What did you think of the Owlcrate November 2020 subscription book box? Have you ever tried a subscription book box before? Please leave a comment below.