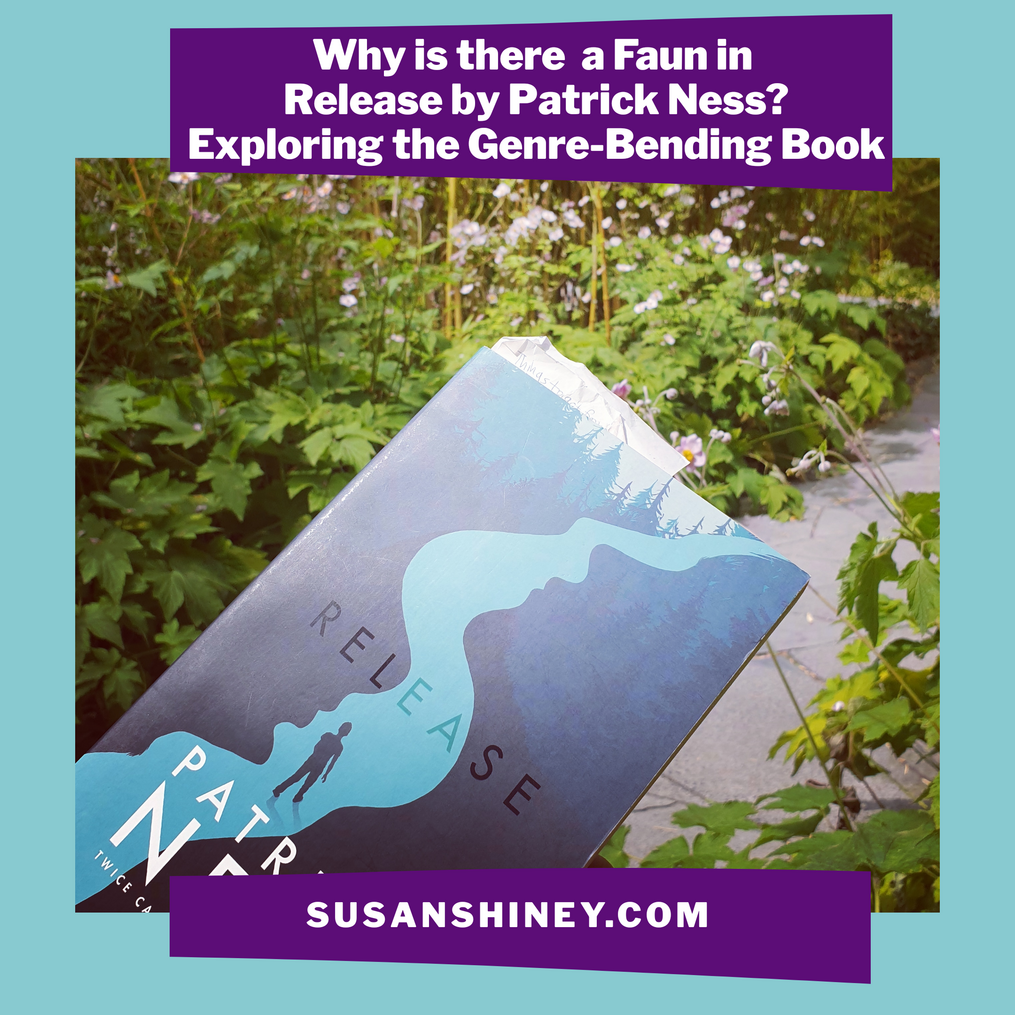 What is Release about?
Release by Patrick Ness has a main plot that follows a day in the life of a teenage boy, Adam Thorn, who lives in a small town and has a religious family. He hasn't come out to his parents yet, and is dealing with preparing to say goodbye to his ex (who didn't treat him particularly well) at his going away party while negotiating a romance with his current boyfriend. This thread is the majority of the book and fits snugly into the contemporary young adult coming of age story. The book is also influenced heavily by Mrs. Dalloway from Virginia Woolf and Forever by Judy Blume. Both books I haven't read yet. Adam is searching for a release on several different levels with his family and with himself.
Warning that the rest could be spoilerish, so proceed with caution! I won't give away the ending or key plot points, but talk about the themes and events in general.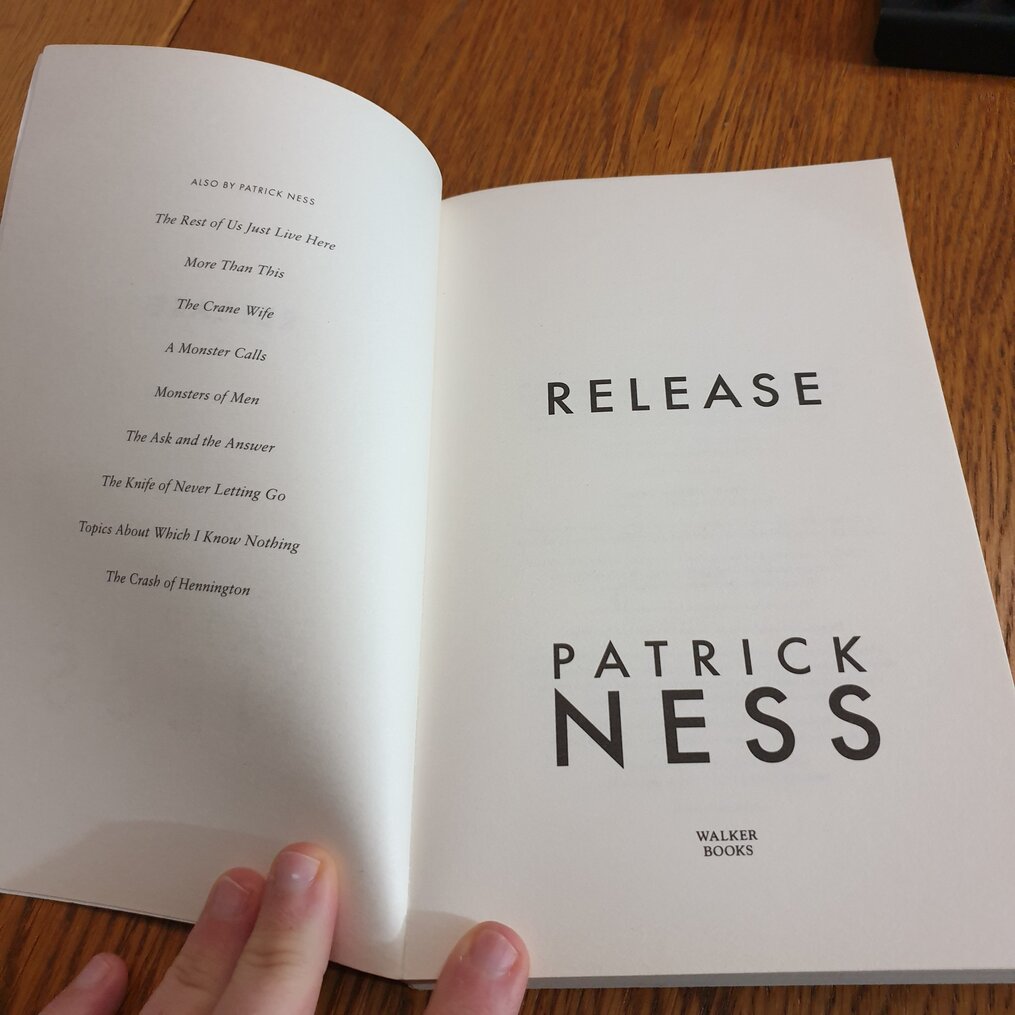 The other plot thread of the book follows the day in the life of a ghost/spirit. Katie has just risen from the dead, she wakes up in the lake where her body was left and begins to remember what happened to her. She moves through the cabin and then the forest trying to remember and put the pieces back together. This spirit has elements of Katie and also elements of a Queen. What Queen exactly we don't know and I love that. Most likely the Queen of some kind of afterlife. The problem is the Queen was caught in the body of Katie and if she stays there too long she could disappear forever. A faun is following her trying to look over her and help her, but he can't give her too much information. The faun follows the Queen's path fixing things, like erasing the memory of the people she interacts with and healing people she hurts. This plot thread has elements of paranormal, horror, and fantasy. The book flips back and forth between this story and the Adam story line, every chapter. The Adam chapters are longer and the ghost chapters are all in italics with a whimsical stream-of-consciousness voice. The Queen and Katie are also searching for their release.
You can find a short book trailer for Release here. Patrick Ness did a Q and A about the book for Waterstones. In it he mentions that there is no such thing as a realistic story, and that all stories are fantastical. It is the author's job to make a world where the fantastical elements could take place. Did I mention I already have two more Patrick Ness books on my hands because I love this mentality! I recently bought Burn and my local library had A Monster Calls. Apparently, several of his books like to take a cross genre form.
I have seen plenty of reviews of this book that like the contemporary story line but resist the fantastical sections, for example in Anette Read's review A Mix of YES and WTF: Release by Patrick Ness. She said it was a bit confusing to her so she disregarded those ghost parts. I however, embrace those sections of the book and wish it was longer and there was more time devoted to them.
What does genre bending mean?
In this article about 5 Genre Bending Books and What They Teach us About Writing by Elaine Meed. Genre-bending books take typical tropes or reader expectations and mix them together. In this blog post she discussed the incredible freedom writers have at their disposal and that genre bending novels are a great reminder that we can let our imaginations run wild.
Release is genre bending because of its two plot threads, one contemporary and one completely paranormal fantasy following a ghost and a faun. There is also an element of the retelling of classics at play here with the connection to Mrs. Dalloway and Forever!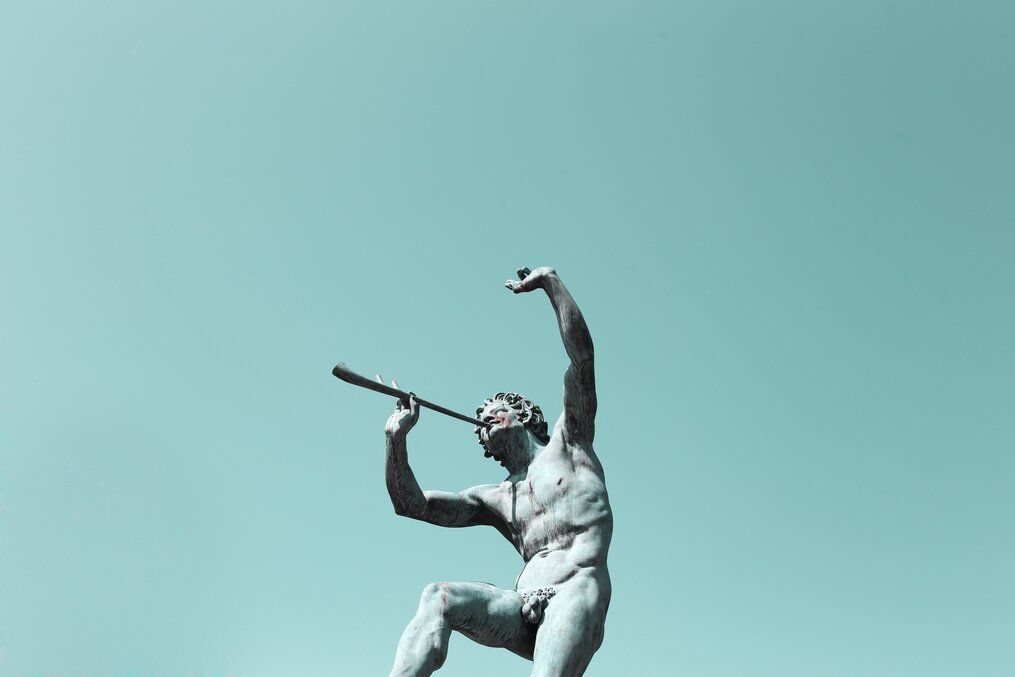 Photo credit: Miriam Espacio via Unsplash.
What does a faun represent?
Fauns according to mythology.net, are half-goat and half-man creatures that are known for their love of the forest, music, women, and their joyous charm. In ancient Greece mythology, the fauns were closely connected to the god Pan, who ruled over nature and the pasture lands.
The most famous faun that is often referred to is Mr. Tumnus in the Narnia books by C.S. Lewis. He was the first friend Lucy made when she entered Narnia and helped her find her way back to the lamp post instead of handing her over to the Witch. He was self-sacrificing because he knew the witch would punish him for helping her.
Hearing about the god Pan, made me think of the Guillermo Del Toro movie Pan's Labyrinth. The faun in Pan's Labyrinth greets the main character Ofelia when she enters the Labyrinth and he gives her three tasks to complete before the full moon.
Faun's are generally associated with being helping yet mischievous, a bit ambiguous when it comes to being good or bad.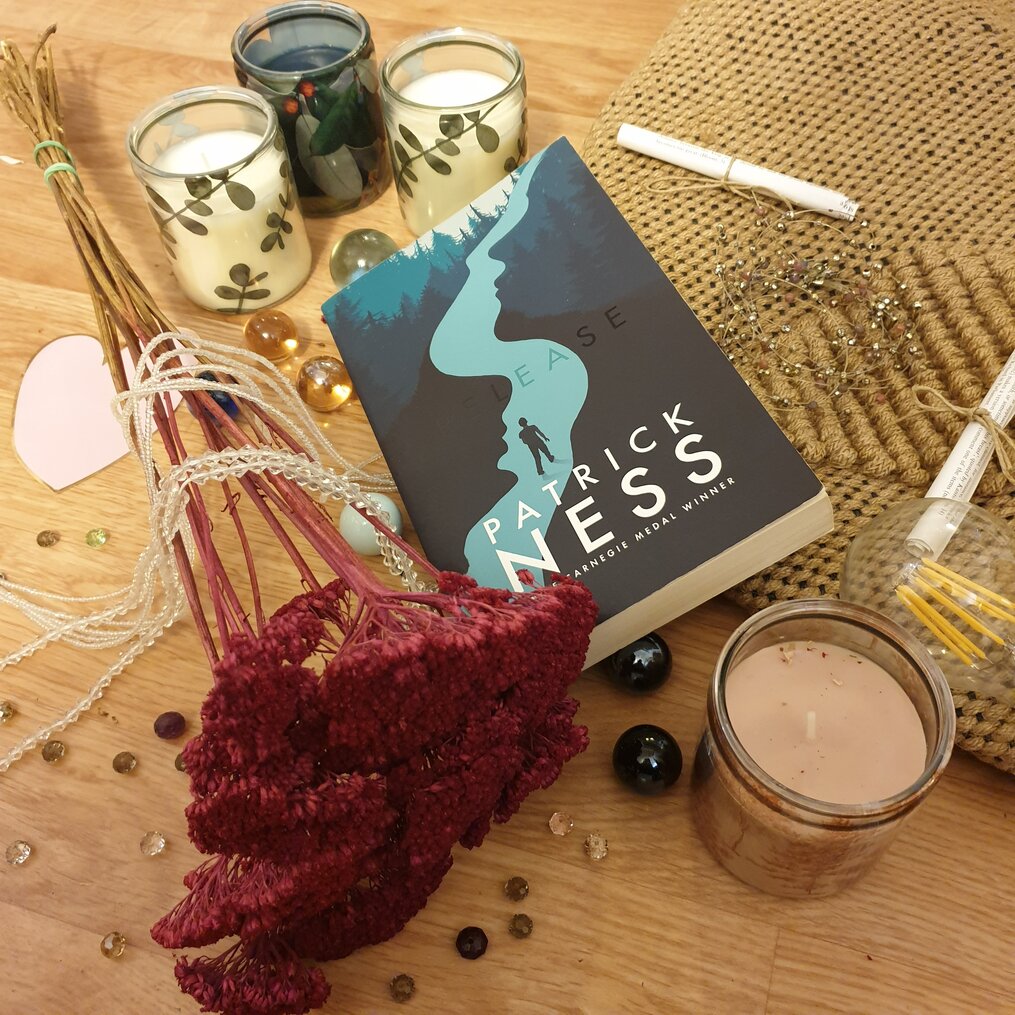 So, why is there a faun in this book?
This is a space for me to theorize, anyway. But, Fauns definitely add a sense of visual drama. They were a favorite to be represented in sculptural form in ancient Greece and Rome, and definitely come to mind when you think of fantasy in the Lion, the Witch, and the Wardrobe and in Pan's Labyrinth.
The faun in Release adds a whimsical element when you think of forests and amplifies the fantasy of that story line. The ghost/spirit moving through town leaving destruction in her wake would veer too far into horror, the faun softens her presence in the book and cleans up after her as she connects with humans in damaging ways. She is furious, searching, and confused. The faun brings the humanity and caring. It gives the reader a release to know the Queen's actions can be taken back by the faun.
He also serves as a parallel to the romance story going on with Adam, the reader slowly sees that the faun feels something deeply for the Queen. And just like in Pan's Labyrinth the faun serves as the notifier of the countdown, in Release it is by dusk where she needs to escape Katie's body or she will disappear.
The faun is introduced on pg. 51 after we have followed the Queen leaving the lake and stumble around with a strong thirst, she meets a man drinking a beer, takes it from him, and has a mirroring of consciousness with the man, who answers her in the same manner of the narrator describing her movements. Then the faun appears for the first time and the man starts narrates what is happening with his interaction with the faun.
He keeps the same unsurprised expression when the faun steps onto the square of concrete, hooves clopping like a prim donkey's. He is seven feet tall, furred to his haunches, horned of head, bare of chest, naked as a wild creature, his priapic goat smell clearing the man's nostrils as effectively as any menthol. He reaches for the man.

¨It's touching your eyes," the man says. "It's a dream, this. It can only be. It offers you forgetfulness and the forgetfulness is sweet."
What an entrance? The faun is a caretaker to the people the Queen comes into contact with and a de-facto guide for the Queen.
This mythology offers an anchoring to a text that goes into surrealist territory which as we can see from the reviews made a lot of the contemporary loving reviewers confused. He is a bit of logic sticking to what is expected of fauns in literature. While the Queen is illogical being seen by some people and not others, being Katie and not, having some unknown deadline or she will disappear to give a sense of tension.
There also was a necessity for the Queen to converse with someone as she moved through her journey through town and it was much more creative that that entity was the faun and not Katie who is stuck inside the same body with her.
Maybe this is going to off the rails, but could the faun be the mirror to Adam? Is Enzo (Adam's toxic ex) paralled by the Queen? It is fun to let your brain explore those paths...
For me, the faun elevated the paranormal fantasy plot line and I loved the ride.
If you are interested in checking out more genre bending books here is 50 Great Genre Bending Books by Flavorwire.
Love genre discussions? I talked about another YA book with a hard to pin-point genre in What Genre is the Astonishing Color of After by Emily X.R. Pan?
Have you read Release by Patrick Ness? What do you think the faun symbolizes? Do you like to read genre bending books? Please leave a comment below.