Susan's

Tags

I love to share!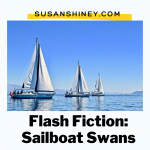 Caredwyn played with the threads of the worn beach quilt her mother made from her childhood t-shirts that she couldn't bear to donate or throw away. Her mother sat next to her staring out at the waves as if the sets were speaking to her in morse code telling her what to say to her recently divorced daughter. Crash. Smash. Whoosh. "Just listen," they advised.
Running her fingers over the Carebear's belly to her right, Caredwyn took a handful of sand and placed it on the quilt square sculpting the sand around the cartoon character. She looked at the horizon as tears trickled down her cheeks. The liquid spread as she smiled when she saw the line of sailboats racing to the harbor. "Remember what I used to say about sailboats?" she said and rubbed her face with her sleeve.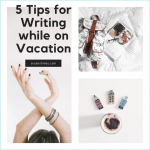 1. Schedule imaginative alone time.
I set up a routine and space for imagination time and I guard it. I tell my loved ones that I will be taking time for myself and don't offer what that space entails because funny enough not everyone will want to respect my imagination time needs. I do find it easier to set up the expectation well in advance. Or I might go on vacation alone and still need to schedule it with myself because days fill up so quickly or disappear so easily on the couch.