Susan's

Archives

From January 2020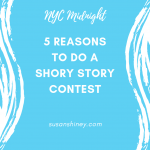 NYC Midnight holds contests for short stories, flash fiction, and screenplays. This year's contest has four rounds. All of the participants are broken into groups with an assigned genre, subject, and character. The top five stories are chosen by judges for each group and then the winners get to participate in the next round. The first round runs from Jan. 17-25, 2020. The story needs to be 2,500 words. I did this contest about four years ago and this will be my second time participating in the event.
So why do I want to do it?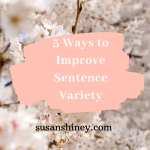 As I line edit my novel, I am writing blog posts to focus on aspects of writing I need to work on. For example, this filter word article : https://susanshiney.com/fumbling-around-with-filter-words/ .
In my last feedback session with critique partners, they mentioned my repetitive sentence structures. So true. My go to is complex sentences that start with a pronoun, in first person pov it tends to be I went...I walked...for every sentence, for 85,000 words, and that is a problem.