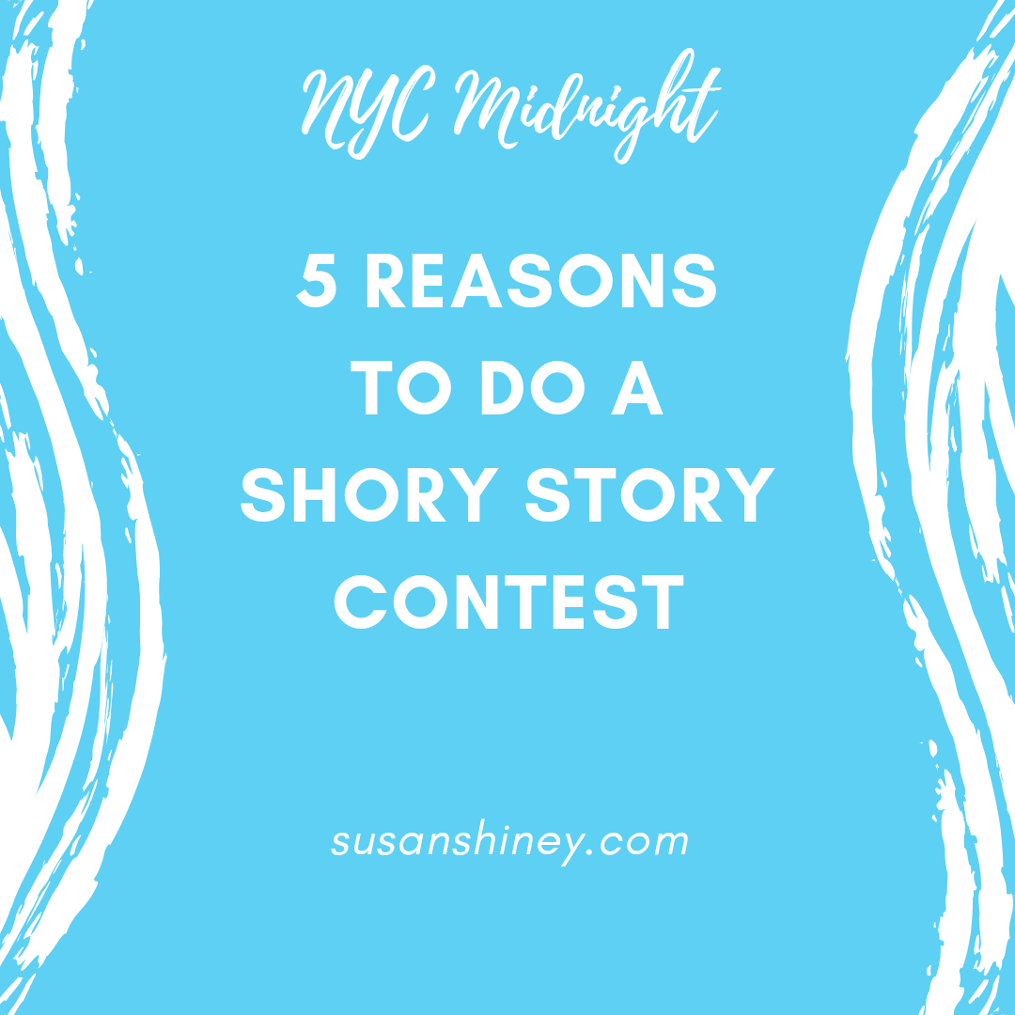 NYC Midnight holds contests for short stories, flash fiction, and screenplays. This year's contest has four rounds. All of the participants are broken into groups with an assigned genre, subject, and character. The top five stories are chosen by judges for each group and then the winners get to participate in the next round. The first round runs from Jan. 17-25, 2020. The story needs to be 2,500 words. I did this contest about four years ago and this will be my second time participating in the event.
So why do I want to do it?
1. Motivation to write with a deadline.
8 days, bodabing, bodaboom. It is very intense and fast, but exhilarating too. Last time and this time, I am doing it with my writing group, so we get to support each other and have mini-deadlines and critiques to get the story done. We all agreed we were ready for a kick in the pants.
2. Trying a new genre.
You get assigned a genre, such as spy, suspense, action/adventure, thriller, horror, comedy, historical fiction, ghost story, thriller, and fantasy, to name a few. Half of the fun is doing research on the genre and checking out winning stories from the past. I had suspense last time and I struggled a lot. However, I loved the feeling of freedom after the contest when going back to my own writing without constraints. It is a great way to force you out of your comfort zone creatively.
3. The feedback from the judges.
I appreciate feedback from professional writers whenever I can get it. During the last contest, I got comments about how I dealt with the wrap-up after the climax, I completely let go of all of the story's tension in a suspense story way too soon. I pay attention to this still when I approach the ending of my stories.
There is an initial high of getting the story done and turning it in by the deadline. Then, I get butterflies as I wait to hear if I made it to the next round and the giddy wait to see what the judges had to say about my work.
4. Connecting with other writers participating in the contest around the world.
There is a forum on the NYC Midnight website where you can chat with other writers to ruminate about the experience and to get feedback on your story after the contest is over. Twitter also has a lot of people commenting about the contest process with the hashtag #shortstorychallenge2020. Like an online writing summer camp, there is a nice sense of comradery.
5. Reading the winners from my group.
It is amazing how many different types of ideas can come from the same genre, subject, and character assignment. After the winners are announced you can go and read the winning stories and I learn a lot by checking out what the winners wrote. Last time I did the contest it was clear why the winners were chosen, inventive plots with great craft.
Have you ever done a short story contest? Have you ever tried to write a story on a short deadline? Leave a comment below.