Susan's

Tags

I love to share!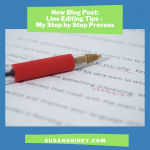 Developmental Editing versus Line-Editing
I think of developmental editing as working on the macro structure of your novel and making sure the spine or the character arcs and obligatory genre scenes are fleshed out. I also worked on the structure of my scenes during the developmental edit and will continue to hone my scene structures during the line editing phase. After I finish with my initial developmental editing pass with my manuscript I send it to critique partners for feedback and ask them just to focus on the developmental issues. I discuss how to incorporate their feedback in 15 Tips for Organizing and Implementing Feedback for Revisions. Micro changes at the paragraph and sentence level are line-editing as in going line by line through your manuscript to revise them.
My name is Susan, and I am a filter word fanatic. At least in the initial drafts for getting the story out, I naturally insert them everywhere. Could you have this problem as well? Let's see...
First of all, what is a filter word?
I saw a man dancing in the street as the clock struck midnight.
Saw is the filter word, this kind of sentence has an easy fix of cutting the beginning and making it a more direct experience for your reader.
A man was dancing in the street as the clock struck midnight.