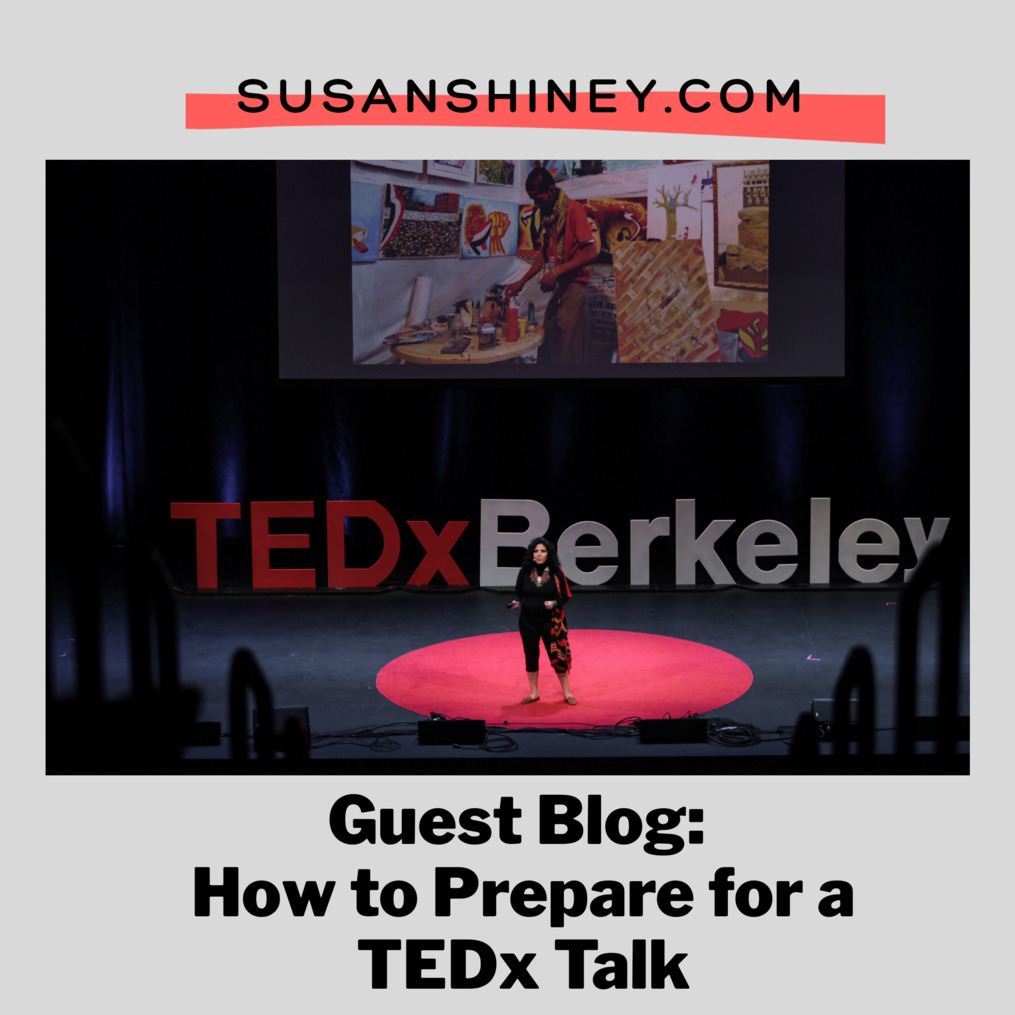 Everyone has their own way of writing and preparing for a talk. The following was how I prepared for a Tedx Berkeley talk in February. I hope you take what you like and adjust it to your needs and habits.
Overcome Self-Doubt
On the morning of the 30th of August, I received an e-mail from a co-curator at Tedx Berkeley inviting me to speak at their Tedx Berkeley event on the 8th of February 2020. I immediately forwarded it to my husband with the subject: "omg!!!!". I was thrilled and honored to be invited. By the afternoon however, my excitement turned into doubt. Why me? What could I offer?
Debilitating doubt turned into self-flagellation and I was about to decline the invitation convincing myself that I had too many administrative residency issues anyway, and I wouldn't be able to travel abroad.
Luckily I was reading Dr. Clarissa Pinkola Estes' book, Women Who Run with the Wolves, and I came across this paragraph:
"Sometimes a woman is afraid to be without security or without certainty, for even a short time. She has more excuses than dogs have hairs. She must just simply dive in and stand not knowing what will happen next."
This paragraph – as the rest of her powerful book – hit a cord. I realized then that I'd allowed fear to consume me. Fear of potentially messing up the talk while it was streaming live – the idea that there was no way to edit terrified me – I was afraid of humiliation and rejection. But mainly what it came down to, I was afraid of bruising my ego. Once I let that go and once I accepted there was no way of knowing what would happen next, I welcomed the experience and began the dance.
Find the Idea and stick with it
Then came the question – what could I talk about? The theme for TEDxBerkeley 2020 was:
"Moonshot: Small Steps to Giant Leaps," aiming to capture the sense of wonder and enthusiasm for discovery and progress that comes with the beginning of a new decade. Today's issues are not just limited to technological progress and instead cut across all aspects of society. We need moonshots — solutions that aim to address the insurmountable — to solve humanity's most pressing problems, from climate change to human rights violations."
This made me panic. I wasn't the head of an NGO or the creator of a new App that was saving lives. I wasn't a scientist who discovered anything, I was just someone who wrote and told stories. An activist who once documented a revolution, a researcher who collected women's stories, but so many others do the same.
In my walks in the Bois de la Cambre, I reflected on that and remembered that everyone had a unique story, and a different angle from where they saw things. I just needed to be me, and to share my own experience without trying to be anyone else, and without trying to impress. Simply to share what I believed was true.
As someone who witnessed first hand the negative implications of traditional media framing, I'd been outspoken about this for some time, and a long advocate for the need to change it. This message would be my Moonshot idea. Not a new idea, but one that I truly believed in.
I then asked myself, which tedx talks did I love, and why? I re-watched my favorite talks: Chimamanda Ngozi Adichi's The Danger of a Single Story, Anne Lamott's 12 Truths I learned from life and writing, Elif Shafak's The Revolutionary Power of Diverse Thought, and Brenee Brown's The Power of Vulnerability. The common denominator I found was that I appreciated their candor, the way they portrayed paradox as normality, and the connection I felt towards them. I loved their personal anecdotes and their natural unpretentious way of speaking. Most of all I felt inspired.
So I decided to emulate the things I loved about their talks. I would focus on the importance of changing the narrative and focusing on resilience in darkness, and in order to make it unique, I needed to highlight my personal experiences. Since my goal was to connect with people I decided that I would speak to them as though we were sitting in a café, not in the auditorium of a world-renowned university.
Re-write, re-write, re-write
In November, I found out that I was pregnant, and my first trimester morning sickness hit like a storm. I was throwing up constantly and was in a state of extreme fatigue. I also had other work deadlines. However because I loved the topic I was talking about, because I enjoyed it, I was excited to find time to work on it.
I wrote my first draft, and went through it with the curators. It was fifteen minutes too long (double the amount of time allocated). Ideally they preferred between 10 – 15 minutes (possibly 18). It also sounded too much like an article or a lecture, not a friendly chat at the cafe. This wasn't what I wanted.
I kept editing and editing. Writing and re-writing. I had to cut sentences I loved because they just didn't fit the style of writing or the message. I needed to narrow it down and make it more personal, less academic, and holier than thou.
I thought about the audience from the beginning but also while editing. I assumed that the audience would be mainly students, professors, and Berkeley community. I needed to connect with them. With that in mind, I included a Meme and a reference to Star Wars in the Power Point presentation. Both were a success.
Feedback
Find someone that is willing to go through your many many drafts. It could be a friend, a partner, or a writing buddy. During the early writing stages, my husband read numerous versions and offered his feedback with each draft. The Tedx team were also incredibly helpful. As the drafts progressed, I sent it to a few friends that I trusted and family members. Their insights and feedback were invaluable.
I wrote the speech in bullet points, and highlighted or italicized words that I should emphasize. Then I rehearsed and timed the talk. I aimed for 15 minutes, but I was at 20 minutes even after all the edits. So I sent it again to some friends and asked them where I should cut.
I continued this process of timing, rehearsing, and re-writing until I reached 16 minutes in length.
Trust your intuition
The title of any talk is very important, and in hindsight I feel I didn't give mine as much attention as I should've. I had wanted a more generic title but the curators felt that it would be best to keep the title "The Other Side of Yemen's War". It was in the end my call, but instead of trusting my instincts, like I'd done with some of the feedback I didn't agree with - I went along with their advice convincing myself that they knew the audience better. They were probably right, and it might be the best title for the talk, but I wanted another title, and I should've stuck to my guts.
Memorize (If I can do it, you can too!)
I needed to do one more thing: Memorizing the talk.
As a child, I had great memorization skills. Sometimes I read something only twice and voila, it stuck in my head. But I lost that skill, partially due to my hypothyroidism which enhances brain fog but also due to the fact that I'm not a child anymore. My morning sickness/fatigue didn't help.
I didn't want to memorize the talk verbatim. I didn't want to sound too mechanical so I didn't mind that I didn't know it word for word. I just needed to remember the main points and the chronological order of my talk. When rehearsing, sometimes, I remembered, other times I didn't.
So in January, I began rehearsing at least twice a week by myself in front of a mirror. Then I rehearsed it in front of my sister and mother. Two weeks prior to the event, I rehearsed it daily in front of my husband who ended up memorizing it before I did.
At the advice of a friend, I recorded my self reading the talk. Then on the plane to Berkeley, I listened to it – and after cringing at hearing my voice – I was able to appreciate the message. I liked the talk. Yet, I still made some last minute edits, and changed things around because I'm that type of writer, the one that edits until the last minute.
Find ways to ease your anxiety
The day before the talk, we had rehearsals at the Zellerbach Hall where we would be giving the talk. While I was nervous, I was also quite calm because I knew that I'd prepared, I believed in my message and I constantly reminded myself that I would give it all I can, honestly, and without pretending to be anyone else. I couldn't control the consequences of whether they liked it or not. I could only control what message I wanted to deliver.
But no matter how calm I was, I still felt lonely and wanted a close person by my side. Luckily, that night, my youngest sister flew from Washington D.C. to support me. I was extremely touched and felt very grateful. Having someone by my side eased a lot of my anxieties, especially the next morning.
The next morning, I woke up at 3 a.m. due to severe jet lag. I tossed and turned in bed, but couldn't go back to sleep. As soon as the hotel restaurant opened, I was the first at the door waiting for my scrambled eggs. I then went for a swim and did my qi gong morning exercises. These activities were essential to maintaining my calm. Back in the room, my amazing sister, did my hair and make up, which helped relieve me from any stress related to whether I looked fine or not.
By 10 a.m. I was sitting in a very large auditorium. When I heard the first few speakers, my stomach contracted and I bit my nails. They were so good. I naturally began to compare myself to them and then realized that I was getting my self all worked up, so I went outside, did another qi gong exercise in the fresh air, and reminded myself that I was not them. I will never be them. I can only be me. What I have to say will be different. Some will like it others won't, and that is ok.
Somehow this pep talk really helped. So when I went backstage to the speakers' room, and while the energy was quite tense because many speakers were naturally nervous, I was able to remain calm. I closed my eyes, and did deep breathing, reminding myself of what I wanted: connection. It's just that simple.
When I was called to the back stage to prepare, I watched the speaker conclude her remarks. My heart began to beat, and I closed my eyes, and took deep breaths. I locked eyes with my sister in the audience, and I spoke to them as though we were sitting sipping coffee at my favorite café.
Bio:
Based in Brussels, Atiaf Alwazir is a writer, researcher, activist and mother focused on gender, cultural heritage, and memory. She's the author of numerous political and cultural articles and is the co-author of Change Square, a photo book on Yemen's revolution. She's currently working on a novel about female sexuality, identity and healing, as well as a children's book. You can find her on twitter: @womanfromyemen,Instagram: @atiafal, or visit her Website: https://atiafalwazir.wordpress.com/